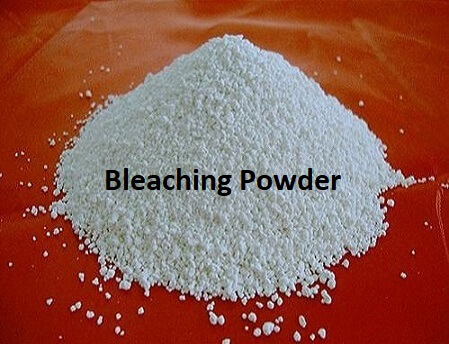 Installed annual
production capacity (MT)
4,500
Technology Developed by
Davy mc-kee (Germany)
Chem. Formula
Ca (OCl)2 Calcium Hypochlorite
Molecular Weight
142.986
Grade
Commercial
Specifications – Average Chemical Analysis
Physical Appearance
White fine Powder
Available Chlorine
30 % ± 1
Moisture
0.50 % max.
Stability
On heating at 100 ± 2 ºC it does not lose more than 1/15th of the available chlorine.
Particle Size Passing through 1.7 mm Sieve
 99.0 %
General Product Information
Stable below 0.5 % moisture contents.
Produces chlorine odor or HOCl in case of high moisture contents and start decomposing.
Decomposes by absorption of CO2 from air.
Decomposition by oxygen separation with low water contents, which is accelerated in the presence of heavy metals (Fe+3, Ni and Co etc).
Shelf Life: One year in airtight drums; 03 months in airtight bags, if stored at room temperature and dry place
Product Handling and Safety Instruction
It is supplied in 25 kg Polypropylene bags having polyethylene liner in bags.
Airtight packing protects decomposition of bleaching powder due to carbon dioxide from air.
Must be stored separately in well-ventilated and covered area.
Avoid contact with other chemicals especially from all acids.
It catches fire on exposure to naked flame and high temperature.